Mick is a former laborer, professional boxer, addiction counselor & skeptic who moved to NYC at 48 and began doing standup and acting. Since then his dark, skewed way of looking at relationships, the news, addiction, and life in general have made him a favorite with audiences.
He's also appeared on Amazon Prime's 'Hunters', AXS TV's Gotham Comedy Live, Inside Amy Schumer, and is a contributing writer to 'The Idiot's Guide to Jokes', Jest Magazine, and The Huffington Post.
He's completed filming the web-series 'Mick: 'Don't Be So Positive', written & directed by Roger Aylward and based on Mick's standup comedy.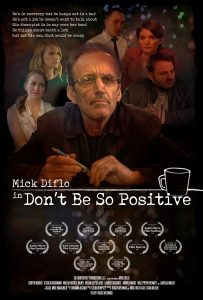 Response has been positive and the webseries recently won Best International Webseries at Dublin's International Comedy Film Festival and Mick received Special Mention for Best Actor. The series also received an honorable mention award at Worldwide Short Film Festival in London.
To view the 26-minute series click the link below.
https://vimeo.com/543381224/10355c6905
To view each episode separately clicks the links below.
01 – Glad I'm Not In Therapy
02 – I Can't Care More Than You
03 – I'll Tell The Kids
04 – Therapists Are Not Supposed To Act Like That
05 – You Have Regulars
06 – Enough To Make You Drink
07 – His Wife was Inconsolable
08 – A Letter From Mick
We thank everyone who helped us meet our goals and we're going to do our best to make the series a continued success.